Ecce Mono
2018
Mixed media
Variable dimensions


Video stills of "Ecce Mono" (2018), HD video, color, sound, 3'13'', variable dimensions.
Ecce Mono (reproduction),
2018, oil on poplar panel, 77 x 53 cm.
Ecce Mono (celebrity mask),
2018, off-set print on card, wood, variable dimensions.
Ecce Mono (study #2)
, 2018, graphite on paper, 42 x 29,7 cm.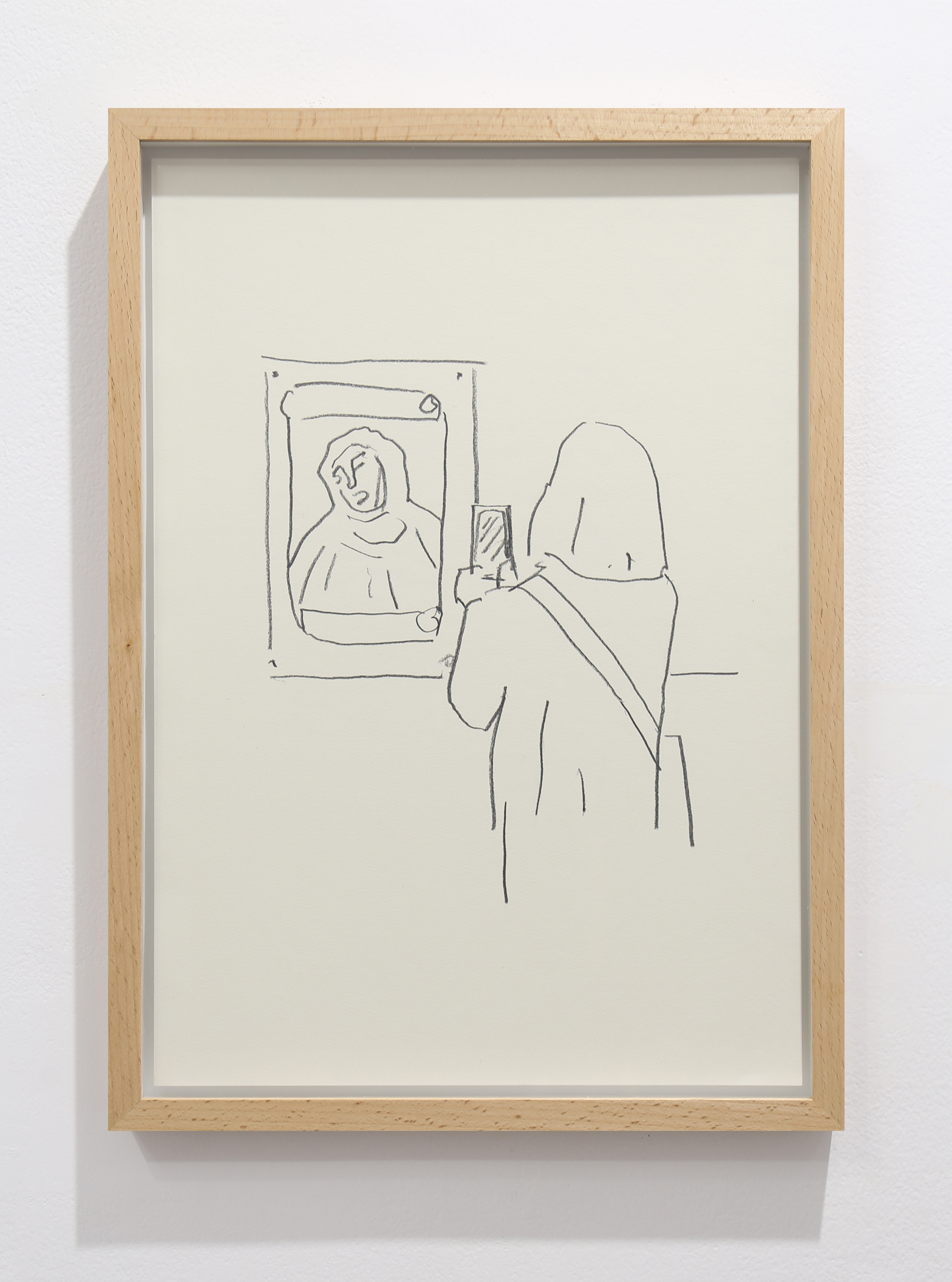 Ecce Mono (study #5)
, 2018, graphite on paper, 42 x 29,7 cm.
Ecce Mono (study #8)
, 2018, graphite on paper, 42 x 29,7 cm.
"Ecce Homo" (1931), in Portuguese "Behold the Man", is the title of a fresco of the Sanctuary of the Mercy of Borja (Zaragoza) painted by the Spanish painter Elías García Martínez (1858-1934). In 2012, this fresco was the subject of an unexpected "restoration" by Cecilia Gímenez (1932-), known as
the worst restorer in history
. In addition to becoming one of the most viral meme ever and an image of merchandising popularized and capitalized, the fresco is now known as "Ecce Mono" ("Here's the Monkey"), a popular adaptation of the original title, which marks as one of the most visited tourist attractions in the world.
In response to this facts, the group of work part of a live action taken in the sanctuary: a copyist invited by the artist, reproduced the famous restoration. This action is presented in "Ecce Mono" (2018), a video that besides the documentary character through a nonlinear narrative, refers us to the
status quo
of the restoration of Gimenéz. As tourists attend a guided tour or seek to register the best moment, the voice-over of a local tourist guide, describes the history of the restoration. It is through a succession of meticulously organized images and speech that the video transports us to the reality of that image, now positioned in the place of a work of art.
This ironic and subversive exchange of the conventional artistic model - preferred by the painters or sculptors - to the "monkey" is also evidenced by the fact that the reproduction, entitled "Ecce Mono (reproduction)" (2018), is painted in the same technique, support, dimension and framing that Leonardo da Vinci's (1452-1519) "La Gioconda" (c.1503-1506).
A serie of eight drawings made by the copyist in the sanctuary as studies for the reproduction, such as "Ecce Mono (study #8)" (2018) where tourists cover most of the views on Ecce Mono, are also an important object of questioning, whereby synthetic gestures outline social interactions with indeterminate end.
Besides the critical character, the set of works points to our response to a visual stereotype linked in popular culture.
VIDEO CREDITS
Director: Fábio Colaço
Copyist: Mariana Mourato
Voice-over: Merche Pellicer
Camera, Editing, Post-production (image and sound): Fábio Colaço, Bárbara Bulhão
Translation: Diego Machargo, Mariana Mourato
Acknowledgements: Santuario de la Misericordia de Borja, Fundación Ecce Homo de Borja, Museo Cecilia Giménez Zueco, Fundación Benéfica Sancti Spiritus Ciudad de Borja