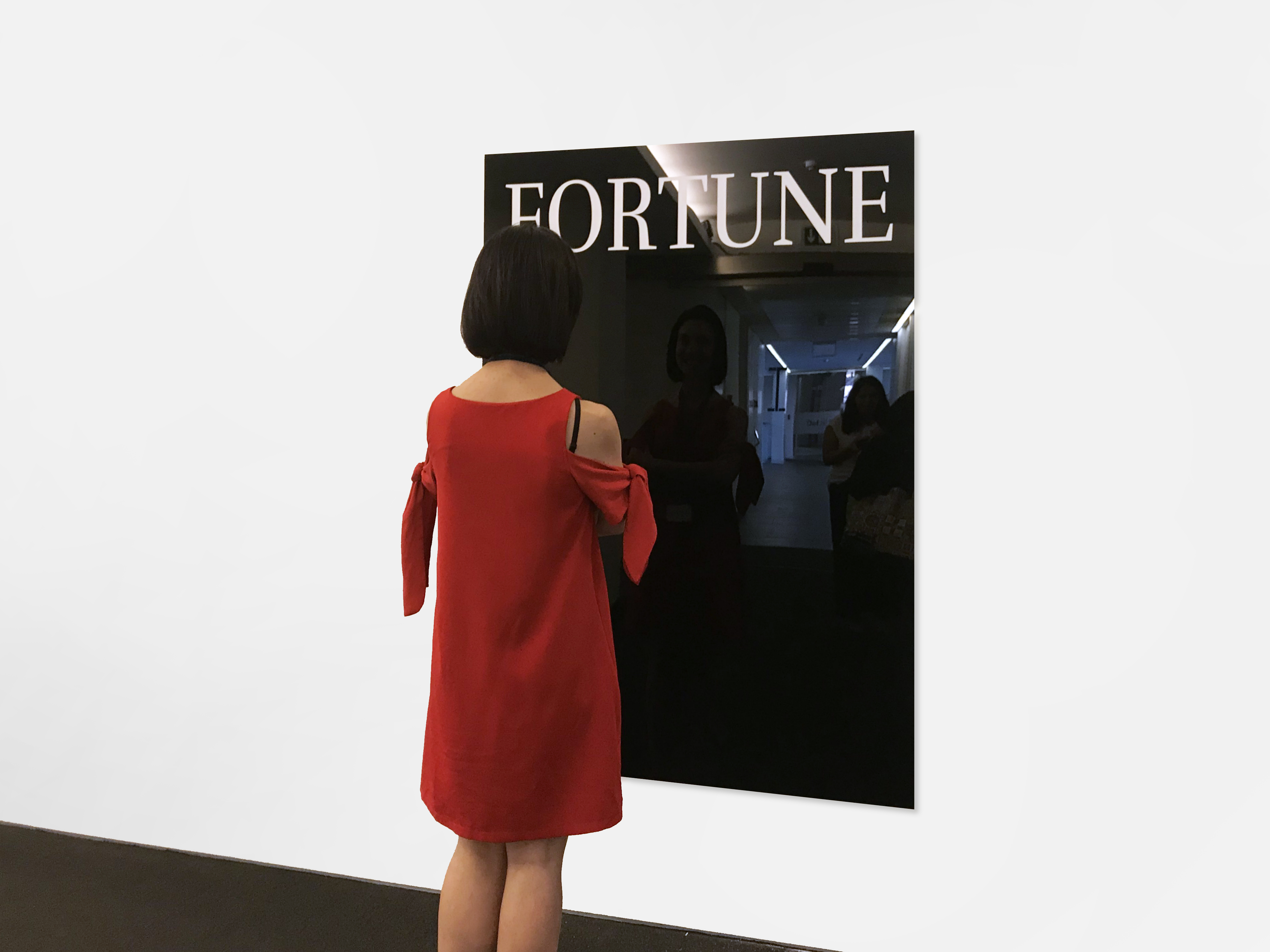 Fortune from the serie Covers
2019
Adhesive vinyl on plexiglas
168 x 118 cm
Welcome (50€) from the serie Welcome
2019
UV print on carpet
100 x 55 cm


Untitled (crumpled)
2019
Banknotes
Variable dimensions
Time is Money, Money is Power, Power Corrupts Eventually from the serie Meme Paintings
2019
Oil on canvas
100 x 100 cm
Welcome (5€) from the serie Welcome
2019
UV print on carpet
70 x 40 cm
Lost Fund #1 from the serie Lost Fund
2019
Resin, fiberglass, oil paint, coins, banknotes
Variable dimensions

This work is the first of a serie of fake rocks made of fiberglass and painted like their appeal real. Each one has a piggy bank slot through which the people can contribute to a social fund that gives weight to the rocks.



Paramount Land
2019
Inkjet print on fine art paper
250 x 150 cm
Forbes from the serie Covers
2019
Adhesive vinyl on plexiglas
168 x 118 cm
A God Called Money
2019
Aluminum, plexiglas, led, electric transformer
220 x 10 x 8 cm

A god called money is one of the controversial sentences by Pope Francis in his public speeches over the last few years in a way of an attack to the global economic system.
Pope's sentence is placed in the form of an illuminated advertising sign, which has the same type as the logo of the European Central Bank.


Untitled (incomplete)
2017
Found object
3,2 x 3 cm (fragment)
60 x 40 cm (frame)






Eclipse
2018
Single chanel HD video, color, silent, 1'30''
Variable dimensions


Eclipse
(2018) is a video documenting an attempt to approximate the brightness of a coin to the intensity of the sun. The duration of the video is determined by the sudden passing of the sun.


God Shoes #3 from the serie God Shoes
2019
UV print on shoes sole
Variable dimensions




A copper-plated golden cent put into circulation
2017
Inkjet print on fine art paper
30 x 20 cm (photo)
30,3 x 20,3 cm (frame)


As the title describes, this photo documents an action wich consisted of put in circulation a copper plated golden cent.
Except in its composition, this coin appears to have the same characteristics as the coin of a regular one cent piece.


Golden Cent
2017
Fine gold
ø 16, 25 mm


A fine gold cast of a cent.






Dirty Money
2017
HD video, color, sound, 2'00''
Variable dimensions

This video work documents the literal washing of a €5 banknote. The banknote is washed until it loses all the color and security inscriptions.




Dirty Money (washed banknote)
2017
Washed banknote
12 x 6,2 cm (banknote)
36 x 30 cm (frame)



Glup! Glup!
2017
World globe, toilet plunger
60 x 50 x 50 cm




Single Currency
2017
Coin
23,25 x 23,25 x 2 mm









Loop
2017
HD video, color, sound, 4'10''
Variable dimensions

Loop (2017) is a video work that documents the meticulous cut of two coins of one euro. The faces of the coins are joined, welded and finished, but with the particularity of both staying with equal sides.


Money Gets Money
2017
Acrylic on banknote
12 x 6,2 (banknote)
30 x 40 cm (frame)

The work consists of a hybrid between a €5 banknote from the Europe series and the banknote number five from the Monopoly board game.
From an absurd logic, the work associates the fictitious value created in the context of a board game where "money gets money" with the value of a real banknote that is currently in circulation.




Upside Down Depression
2018
Bronze
20 x 20 x 6,5 cm

In the center of Galleria Vittorio Emanuele II in Milan there is a tradition that brings good luck. This popular belief says that if a person spins around three times backwards with a heel on the genitals of the bull represented in the floor, this will bring her or him good luck.
This solid bronze object is obtained from the negative space of the floor depression resulting from this practice by the people along the time.
Ecce Mono (reproduction as Gioconda)
2018
Oil on poplar panel
77 x 53 cm

Since 2012, Ecce Homo becoming one of the most viral memes ever and an image of merchandising popularized and capitalized. The restoration is now known as Ecce Mono ("Here's the Monkey"), a popular adaptation of the original title, which marks as one of the most visited tourist attractions in the world.
In response the status quo of this restoration, the serie of works parts of a live action taken in the sanctuary: a copyist invited by the artist, reproduced the famous restoration.



Ecce Mono
2018
HD video, color, sound, 3'13''
Variable dimensions

+ info


Ecce Mono (study #2)
2018
Graphite on paper
42 x 29,7 cm (drawing)
44 x 31,7 (frame)
+ info
Trevum (Guia Astral)
2016-2017
Guia Astral magazine from January 2017
35 x 26 cm (magazine)
40 x 31 cm (frame)

Trevum is a fake natural multivitaminic with no apparent form, created by the artist, used to control the bad luck and life disconforts. For a month, this product was advertised through different media. Part of this campaign was made through an advertisement legally published in Guia Astral, a well-known Portuguese magazine of astrology.


Trevum (flyer)
2016-2017
Off-set print
15 x 10 cm (flyer)
22 x 17 cm (frame)


Ostrich
2016-2017
HD video, color, sound, 3'10''
Variable dimensions

Ostrich (2016-2017) is a film that documents an action performed by the artist. The main action of the film is the burial of its own head in the ground, in reference to the fake popular belief that the ostrich buries its head in the ground in the presence of great danger.

+ info